---
---
Discographie:
2016 - Recording of a live concert 1973, double-Vinyl-LP
2012 - HAIFISCHE, Vinyl-LP+CD
2009 - Strange Dreams, CD, (Diregarden)
2005 - Tips zum Selbstmord, LP, (Amber Soundroom)
2004 - Tips zum Selbstmord, CD, (Garden-of-Delights)
1996 - Tips zum Selbstmord, CD, (Little Wing of Refugees)
1990 - Vier Kapitel, 4-LP-Box
1972 - Tips zum Selbstmord
---
Double Vinyl LP "Necronomicon Live in Concert 1973"
In June 2014 a tape with the recording of a NECRONOMICON concert from 1973 (Neue Galerie, Altes Kurhaus Aachen) was discovered in the archives of the Aachen "Ludwig Forum Museum of Modern Art".
It is interesting to note that the tape comprises live versions of all tracks from the 1972 LP "Tips zum Selbstmord" played by the original cast of band members from 1972. The live versions mostly are much longer than the 1972 studio recordings because the tracks had to be shortened for the studio record. Furthermore, the tape comprised a song lost since 1973 which NECRONOMICON during the last years had been searching for on this website. It is a sequel to the song "Die Stadt", named "Stadt II" (The Town II), dealing with the ugly aspects of our towns. There also is a song which was completely forgotten since then, because it was only composed for this single concert. Its name is "Ouverture". It is an instrumental track both with very heavy as well as very melodious and "classical" parts in the style of the Dutch groups "Focus" and "Ekseption". The stereo quality is astonishingly good; thus we decided to publish the tracks as a "historic" documentation on a double vinyl record. The cover top comes from a poster our drummer Harald Bernhard made in 1972. Only 500 numbered examples of the record were made. With the LP comes a download card which enables a server download of all tracks for private use. The new LP was presented for the first time to an interested public during a concert in the Ludwig Forum for Modern Art in Aachen on January 23rd, 2016 and is available since then either via our contact address on this website or via www.amazon.de.

Fans in USA please contact Fusetronsound 1367 Greene Ave, # 1 Brooklyn, NY 11237-4901 USA, Fusetronsound, Attn: Chris Freeman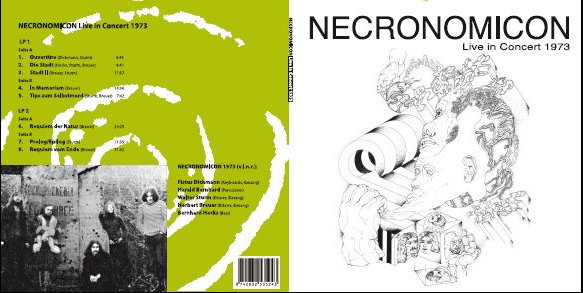 Cover, front and backside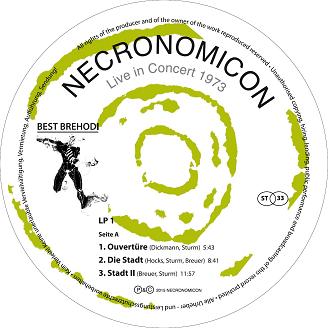 Label LP 1, S. A
---
HAIFISCHE, Vinyl-LP + CD, 2012
Since 2010 NECRONOMICON started playing again with mostly the original cast of band members (Harald Bernhardt, drums; Norbert Breuer, Git.; Gerd Libber, Bass; Walter Sturm, Git.). On the keyboards now Helmut Herzog is providing our as near as original Sound. In professional studio quality songs we composed between 1972 and 1974, which never had been documented in good quality, were recorded. The new vinyl LP HAIFISCHE (Sharks) plus CD as bonus was published on December 22nd 2012. The cover reappraises the artwork and design of our "Tips zum Selbstmord" LP.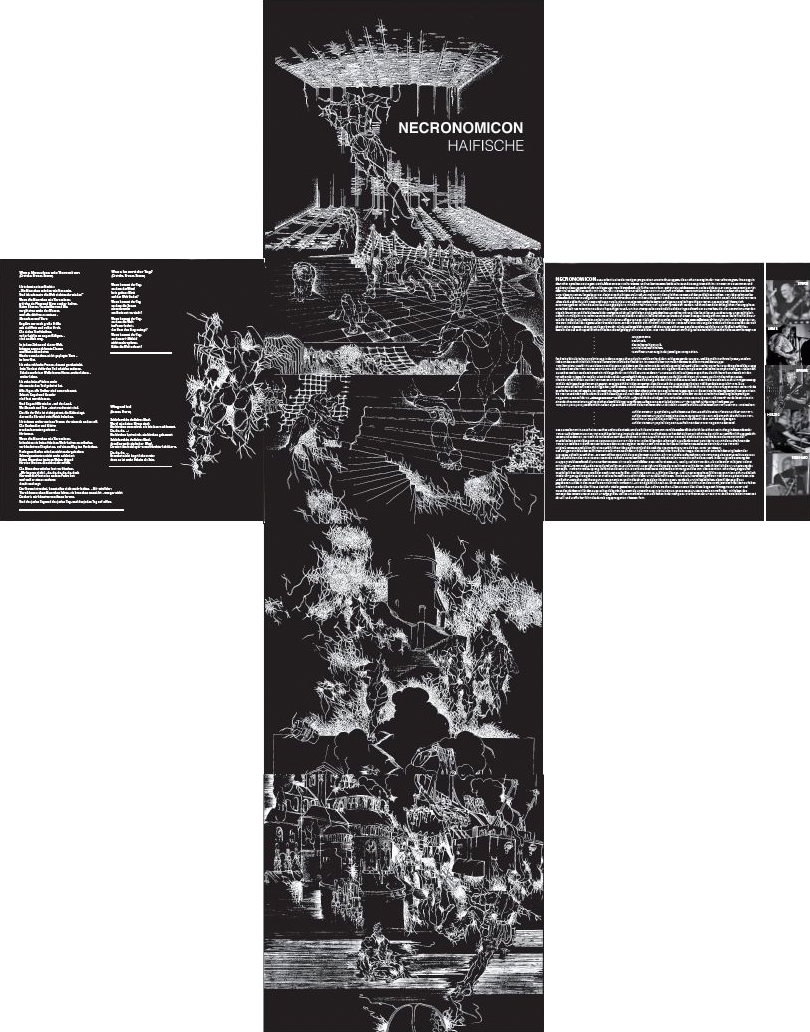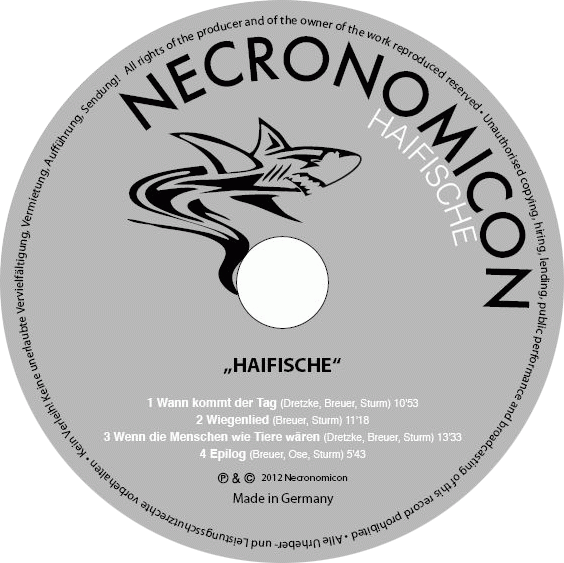 The German lyrics take up the 1972 themes which today seem even more relevant than then.
Lyrics of "Haifische"

---
Strange Dreams, CD, 2009 (Diregarden)
Get the feeling - Starter/Knocker/Motorcycle/Morning/Strange dreams/Roundabout/The donkey/Sunday/The well/Little man/Amadeus song/Driving me mad/Gossip.
Walter Sturm (g, voc), Dieter Ose (key, g, voc), Bernd Oppitz (b), Harald Bernhard (perc).
In 1976, there was the first split of Necronomicon; that same year, however, also saw the band´s reunion, partly with new artists (see above). They now used English lyrics instead of German ones, and the lyrics weren´t as critical as they had been before. The tracks were shorter, the music somehow more complex.
The CD "Strange dreams" contains ten until then unreleased tracks recorded "studiolike" at rehearsals and three from a gig in Herzogenrath near Aachen in 1976.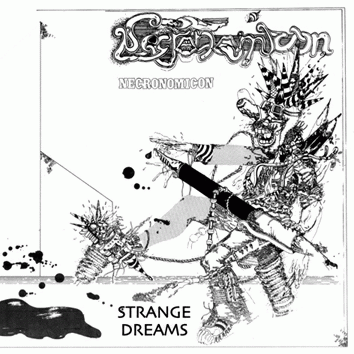 ---
Tips zum Selbstmord, LP, 2005 (Amber Soundroom)
For the first time, in May 2005, the band allowed an official re-issue of their original 1972 LP, "Tips zum Selbstmord". The six tracks of the LP were taken from the original mastertape. Thus, the sound quality is identical to that on the LP of 1972. The original five times fold-out cover has been reprinted, this time in one piece. The print material is thinner than the original one, is more flexible and has a glossy appearance. A white on black printed info sheet is added (see below). The edition is limited to a number of 500.
Since this edition was sold out after a few weeks, another 500 copies were printed in March 2008.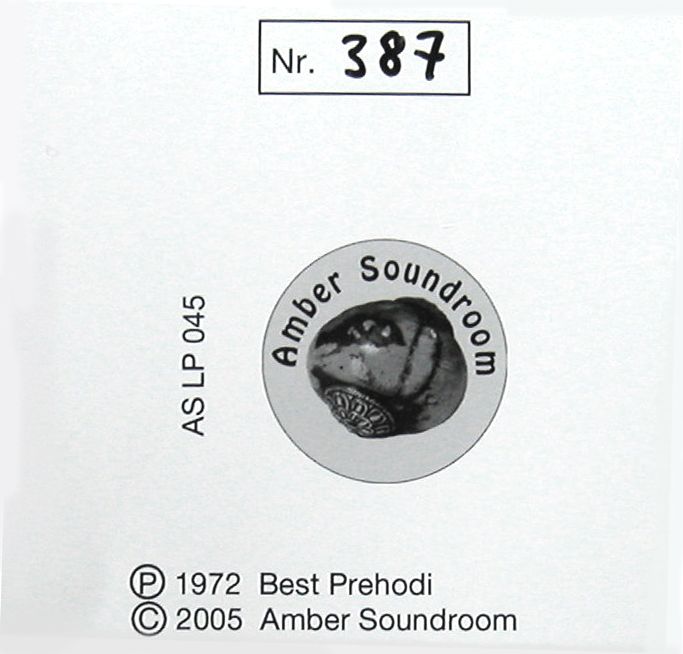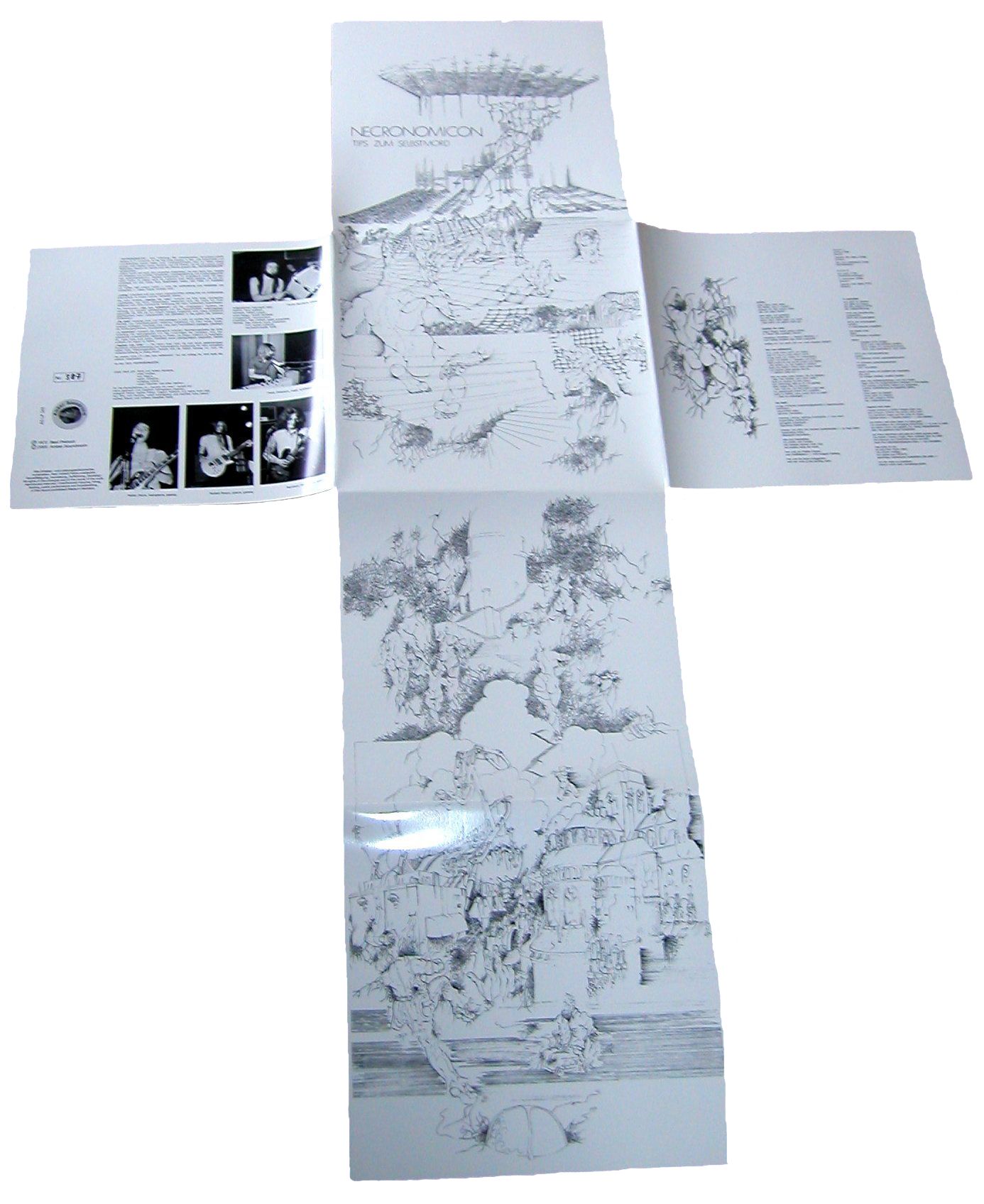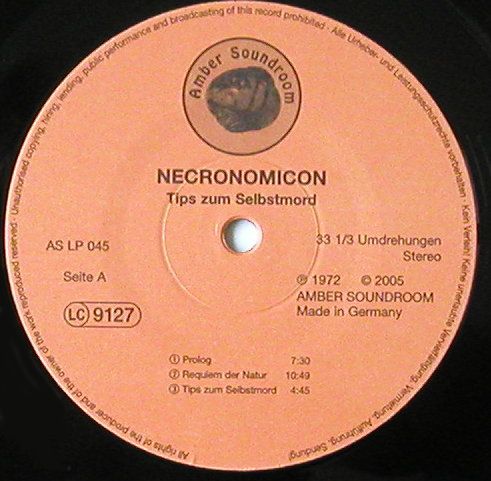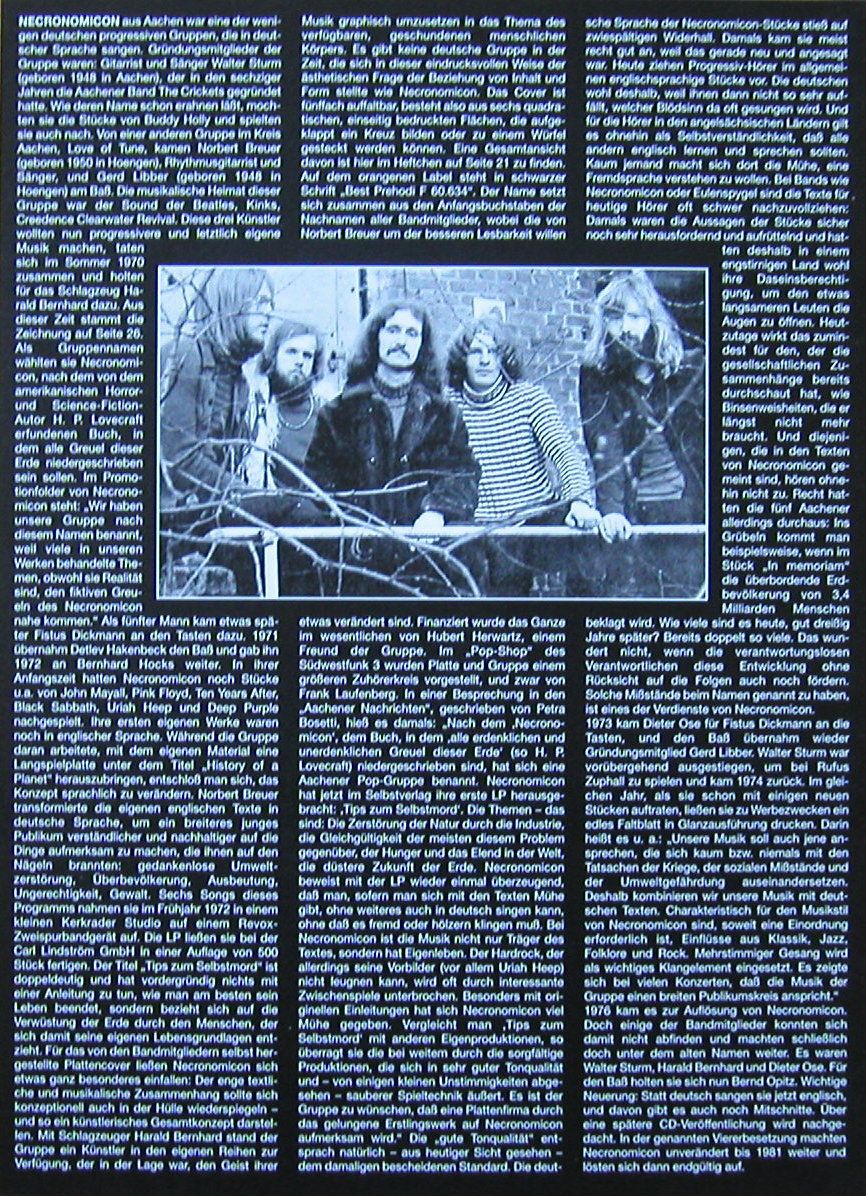 ---
For another CD edition of "Tips zum Selbstmord" released in 2004 four bonus tracks were added, which could be heard on the 4LP set from 1990, too. One was taken from chapter one from 1971, and three from chapter four from 1974. They all had been remastered on the basis of the already remastered tapes by Little Wing. Additionally they were dehissed, remastered again, and an artificial stereo effect was created, as far as possible, by the latest technology. Thus, about the half of "Vier Kapitel" is made available on CD. However, the original five times fold-out cover couldn't be imitated for the CD. So its front cover was left as it was and the pictures of the band members can be seen on the back side of the accompanying booklet. The four inner sides as well overall view can also be found inside the booklet.

In June 2015 this CD was reintroduced; the booklet was updated and there are three bonus tracks from 1971 and 1974.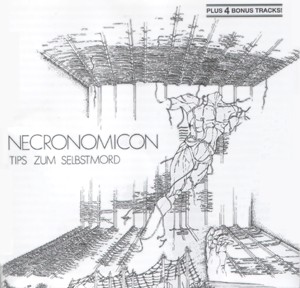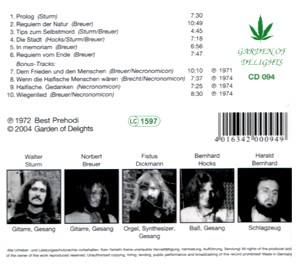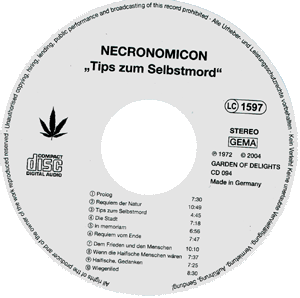 ---
Tips zum Selbstmord, CD, 1996 (Little Wing of Refugees)
In 1996 a legal CD of "Tips zum Selbstmord" (Little Wing of Refugees LW 1049 RP 4) was released, too, yet without any additional tracks and with a simple "standard" cover of the editing brand. Since long now also this disc isn't available anymore.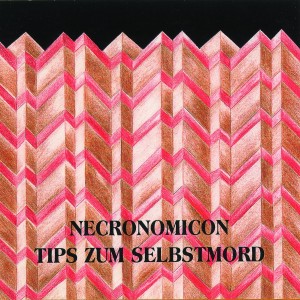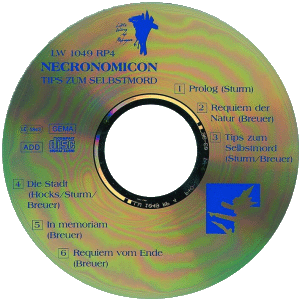 ---
Vier Kapitel (Four chapters), 4-LP-Box, 1990 (Little Wing of Refugees)
In 1990 a limited numbered edition of 500 copies of "Vier Kapitel" (Four chapters) (Little Wing of Refugees LW 1010/1011/1012/1013) was released. The exemplarily well-done 4LP set is since long unavailable. The third LP of the four ones contains "Tips zum Selbstmord" and was taken from the master tape. On the other three LPs you can find until then unreleased recordings from 1971 and 1974. The whole edition doesn't come in a jewel box, but in book form, like "Living in the past" by Jethro Tull. The 1971 records are either songs not published before or live versions of "Tips zum Selbstmord". The 1974 recordings only existed on a mono cassette tape. As you can easily imagine, the sound quality isn't that good, because the recordings were never made for being released - even if the tracks had been remastered. Nevertheless they a very valuable in demonstrating the musical development of NECRONOMICON from 1971 to 1974.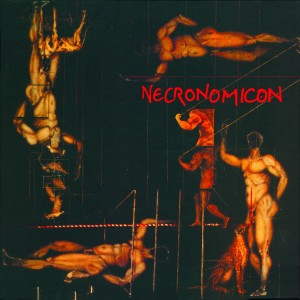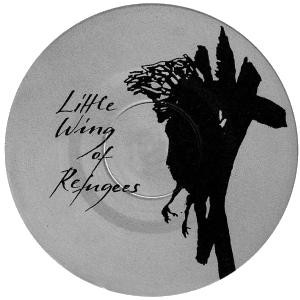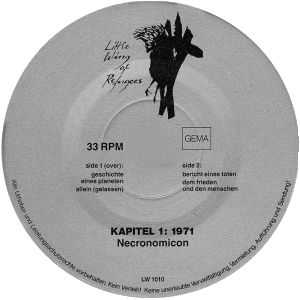 ---
Tips zum Selbstmord, LP, 1972
In the spring of 1972 Necronomicon recorded six tracks of their musical program at a very small studio in the Dutch town Kerkrade on a Revox double track tape machine. The LP was mastered by the Carl Lindström GmbH, Cologne, and 500 copies were pressed. The title "Tips zum Selbstmord" (How to commit suicide) isn't meant as an instruction on how to end one's personal life; it rather refers to mankind, which is devastating the earth, and thus destroying its own basis for living. With the self-made cover they had something extraordinary in mind: it folds out five times and, in consequence, has six squares, which build a cross when completely unfolded. While one of its sides is blank, the other one is covered with drawings by Harald Bernhard. This unique concept of the band's name, the music, the lyrics, and the record's title found its completion with this design and the according illustrations. In the discography, there's an image of the unfolded cover. On the LP's orange label there's written in black, Best Prehodi F 60.634. This is a fictitious creation of their own, compiled by the initials of the band members last names (Norbert Breuer's name was slightly "adjusted" for improved readability). Financially, the whole LP project was supported by Hubert Herwartz, a friend of the band.